This post might be a bit upsetting at points, just as a warning
I think most people have heard about children acting out abuse or just generally expressing their emotions using dollies or other toys. Kess has used toys as part of therapy and many therapy rooms will have these things for the child to make use of.
But whilst I always knew about toys etc, the modern age has brought along a new way of doing this, that I did not anticipate.
When Kestrel was about 12 she wanted this computer game called The Sims 2. The basic idea of The Sims is that you create simulated humans (called Sims)  and control their lives – make them get jobs, get married, be parents, go to the toilet, make dinner, learn skills, do homework, adopt a pet…..adopt a child.
This is a Sim!
The game has expansions rated 12, but the base game was rated 7+ when I bought it. I checked the game out, and didn't see any reviews which gave me cause for concern.
At first everything was pretty much as I expected (I kept checking in on her whilst she was playing), and the main problem was getting her to come off!
She made some adoptive families (you can adopt on this game) and that was quite sweet really. "Look mum, they've adopted and they're really happy!" (it's all very realistic <not> – you phone SS and the very next day without any assessment they come drop off a child!!)
This realistic: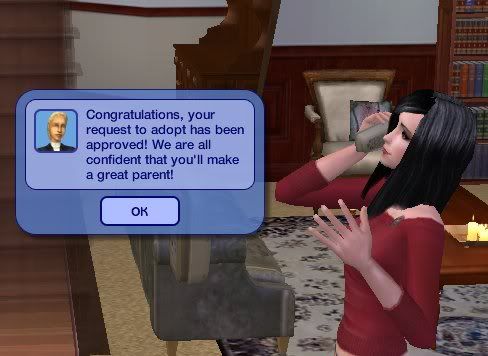 However, soon I noticed her doing things which honestly worried me – she began creating parents who were abusive. She had babies being neglected and not fed. Children sleeping outside, missing school and eating out of bins. Yes, this game will let you do this. I won't put the pictures of Sim children crying and hungry and eating out of bins on this post because I find it too upsetting.
This results in a social worker coming and taking the children into care and once they are gone they can't be returned.
Then she actually took the step of recreating her own past as fully as she could. She created a Sim version of her birth mum (same name, tried to make them look similar), her Sim siblings, her own Sim self. Neglect, abuse, social worker. Adoption by Sim Me.
I was stumped. What to do? What to say? Why was she doing this? My gut always said that this was the same thing as with dolls, but a 21st century version. But should I broach the subject?
In the end, I sat down next to her and talked along. "That's you isn't it?". "You're with X (birth mum)". "Now you're doing x/y/z" etc
She started talking back. This is just one example
"Yes, I'm really hungry so I'm eating the food out of the bin, see? And the mummy and daddy are fighting while I'm eating too, see?"
"Oh I see. I think it might be scary to see them fighting like that"
At this point, she started crying and then smacked the computer screen, smacked me and ran off
But she still carried on doing it. I especially noticed her doing it when she was anxious or going through a stressful time. Doing this was clearly upsetting to her, because she sometimes became very upset or angry.
We had finished up therapy by this point and I was desperate for any advice but post adoption didn't really have any. So we went on alone.
And dealing with a traumatised child expressing their emotions in this way is not easy. Talking had mixed effects but I kept at it, because I thought that trying to let her know I could handle anything was a good thing.
(Social Worker removing a baby)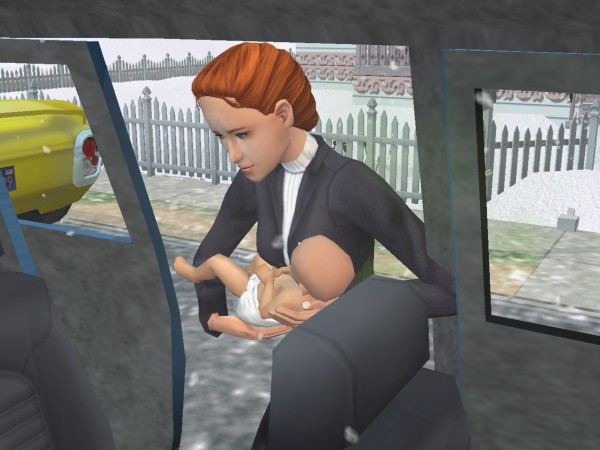 Unfortunately after a while and two incidents where she became very aggressive, I changed tack and quite simply banned her from playing at all.
She complained and tantrummed and wanted it back, and I wondered and worried about whether I was taking away something she needed to articulate her past and feelings with. But struggling alone with the fallout (very challenging behaviour, dissociation etc) from this was too much.
About 2 years ago when she was 15, I let her have it back. Mostly it's okay, but occasionally, she would do the same thing again. Abuse, neglect, adoption. Promiscuity and other sexual issues.
She still does this. Recently I asked others for advice and got experiences back – a foster mother whose foster (and birth) kids used The Sims. She said they seemed to find it helpful and she used is as a way to talk about the past, and the birth parents. Especially about prioritising – (eg. a sleepy Sim might choose to go to bed instead of feeding their starving child, and that can create discussion around adults putting their children first). Another mum, whose adopted and birth children all did this. She didn't really appreciate the adult Sim version of her son having sex with his teacher! Other birth mums reporting their kids creating disaster, abuse and death. It seems that most kids with this game will do this kind of thing at some point, although it's obviously different when you have a child like my Kess who is recreating her past and acting out real abuse (and experiencing the fallout). Someone who knew of a therapist who used the Sims as a therapeutic tool.
Also recently, as Kess has been through reunion and the awful fallout, she has turned to The Sims again. She has made her birth mum and her (adopted by me self) become best friends, then fall out and fight, and make up again. In real life, she hasn't reconnected with her mother since the incident that led to her hospitalisation, but I wonder if she is using the game to explore this possiblity?
We still have no professional help surrounding this. I think there is a big difference between a therapist watching a child doing this and helping them with it…and me supervising, not knowing what to do.
But it is what it is.
And to adoptive parents -  if your older child asks for the Sims 2 (or 3) just be aware that it can be used for this kind of thing, for better or worse, for therapeutic value, or not so therapeutic value. I was totally blindsided by it, even though I read many reviews before buying (nowhere mentionned this).
Sim Adoptive Siblings: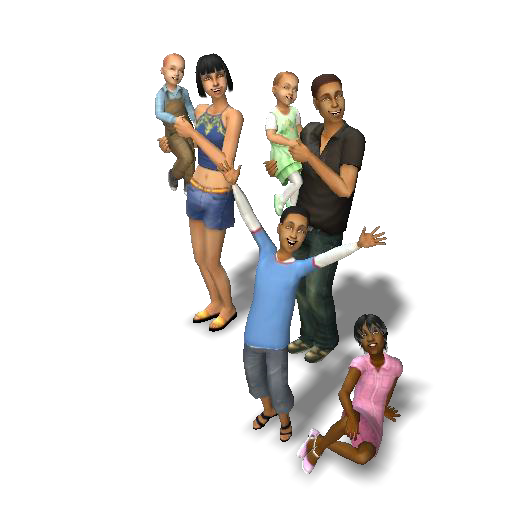 None of these Sims are Kestrel's creations, which I won't put online